Event:    Valley of Art
Venue:   Kapolcs – Hungary
Date:    2005. 29. July- 7. August
Authors:    TAJEK Land Art Group – Balazs ALMASI, Zsombor Krisztian KISS , Ildiko Reka NAGY  –  Gabor BATHORY, Krisztina SARRETI
In 2005, we were invited by the Kapolcs Art Valley organizing team to introduce temporary land art works in a 10-day-long summer festival situated in the countryside. We developed an interactive land art project reflecting the ecological phenomena of consumer's society.
The village garden is a living, organic, constantly changing image of man and nature. The relationship between the village and the landscape thickens in the garden: the garden is untearable part of the landscape, a part of a coherent system.  A slice of nature enclosed by a fence, where the fence does not limit ecological connections. However, the Hungarian landscape is slowly falling victim to plot speculations and construction. With the artificial and invisible boundary of land distribution slices the landscape. The landscape slices are sold almost as an object by paying the price. The value of purchased land is practically determined by accessibility, location, public utilities, views, neighboring plots. The vegetation and fauna in the area only counts in the value of the land that replaces the owner exceptionally, and only those where crops are usable for economic purposes, for example cut trees that have some monetary value.  So the value of the plot is a mere abstraction that does not have any physical basis (apart from the size of the area), and on the plot, the real living creatures that can be traced, all of which make up the landscape, they have no value. That is, existing does not exist, and abstraction – through the forints – becomes palpable!
Each of the live and visible elements of the corner plot (primarily plants) is barcoded, a symbol of the consumer world, a black and white label encoding the relationship between price and value.  The codes of "commodities" stored the ecological role of the commodity, its position in the system, its absolute value, which was symbolically valued. The barcode reader set up in the garden "buyers" could query the hidden information behind the code.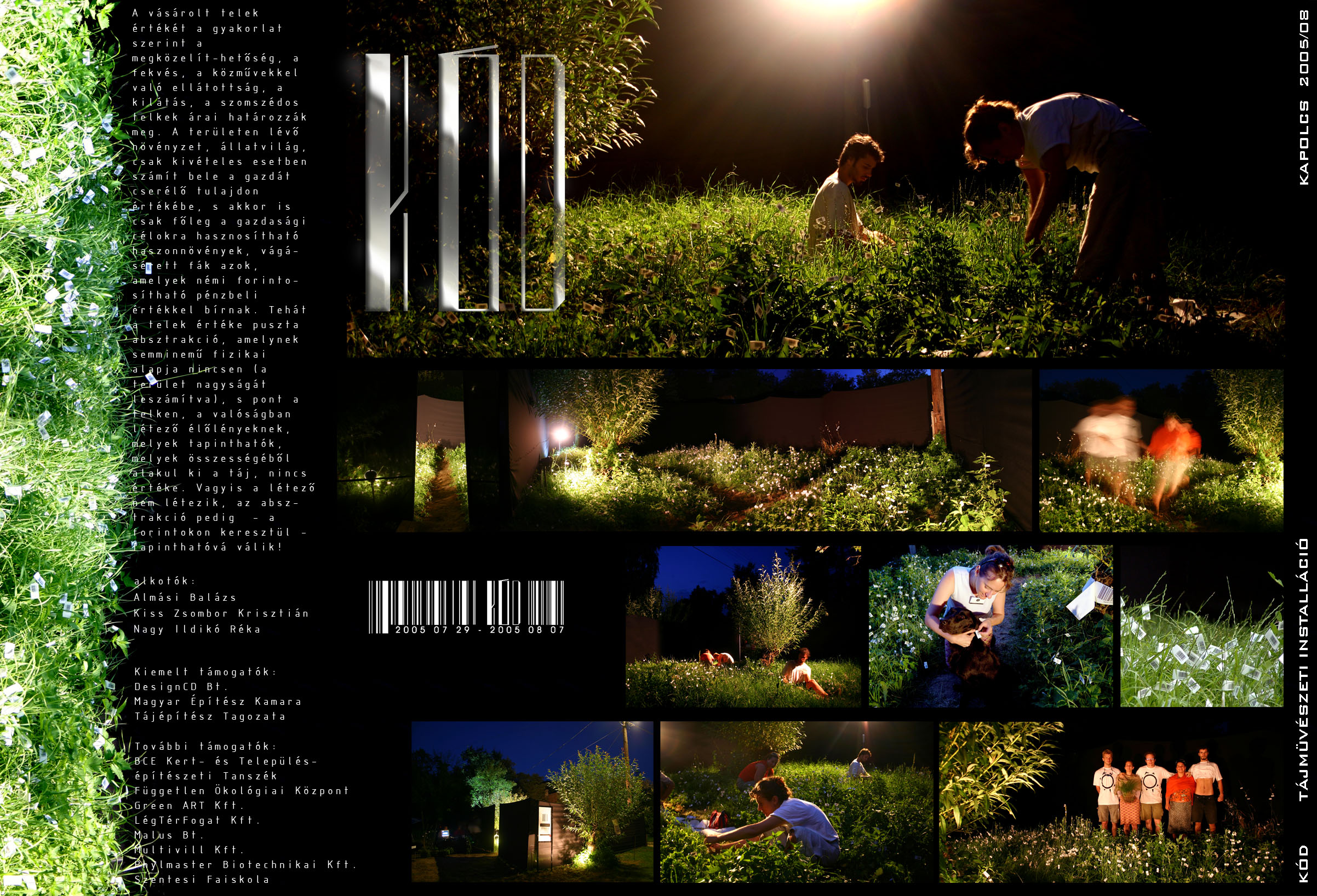 Main sponsors:   DesignCD Bt., Landscape Architect secdtion of the Hungarian Chamber of Architects
Other sponsors:   Corvinus University of Budapest Department of Garden and Open Space Design, Independent Ecological Center, Green ART co., LégTérFogat co., Malus co., Multivill co., Phylmaster Biotechnikal co., Szentes Nursery
Mentés
Mentés
Mentés
Mentés
Mentés
Mentés